Camera, Photo & Accessories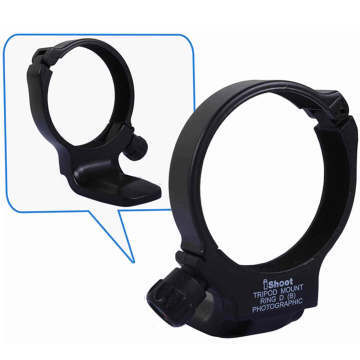 Metal Tripod Mount Ring Lens Collar for Canon Macro Lens EF 100mm f/2.8L IS USM
$17.99
I love my EOS 100mm f/2.8L macro lens, but on tripod it was a pain to rotate to vertical.This mount did it for both macro work and portraits for me. Very sturdy, fluid, and speeds up work-flow.
Excellent ring, neatly made, holds the lens well. On jupiter-21 m sat very tightly. Convenient buckle: first snaps, leaving the opportunity to turn on the lens, and then tightened. Drove quickly, tracked. I recommend.
Very good option compared to Canon's $150 offering. Out of the box it looks very sturdy and material is nice as well. My only complaint is it's not like Canon rings that won't open completely and holds the round shape.Will see how it lasts against the test of time. If I'll break my $2000 setup, you'll know.
This bracket is well made - black-anodized cast aluminum with a nice slightly pebble-grain surface. It fits the Canon EF 100mm f/2.8L is USM Macro lens well by means of a thin rubber lining - the whole ring clam-shelling around the lens and latching via a spring-loaded lock knob, which is then secured by a couple of turns . Compared to Canon's $150 offering (https://www.amazon.com/dp/B00009R6WF/), which I have not used, it is a bargain.
What is the inside diameter?
It has no problem fitting the EF 100mm Is L lens macro holds it nice and firm. Like it better than Canons mount.
The diameter is about 6.8cm
The product heading says for canon ef 100mm f/2.8l is usm macro, but then states can't be used with canon macro lens ef 100mm f/2.8 usm?
Mine works great. It balances out the rig on the tripod, in my opinion.
It fits fine on my Canon ef 100mm f2.8L is usm macro. I suspect there may be a defference in the f2.8L and the f2.8 non L lens.
Can someone please measure the width of the lens collar? I see the inner diameter is 69-70mm, I'm intended to use it with a different lens. Thanks.
Dear, This collar is ONLY fitable for Canon Macro Lens EF 100mm f/2.8L IS USM . (latest version), Others cannot use it. The Inner Diameter is about 6.8cm. NOT suitable different lens. Please note.
Good solid ring mount. It does the job. Why pay more?
A perfect fit for my Canon 100mm L macro lens. I wish I could give this tripod mount ring 10 stars, I am more than happy with this purchase.
Fits the lens perfectly, for the money better buy than the OEM lens collar.

Your cart is currently empty.