Camera, Photo & Accessories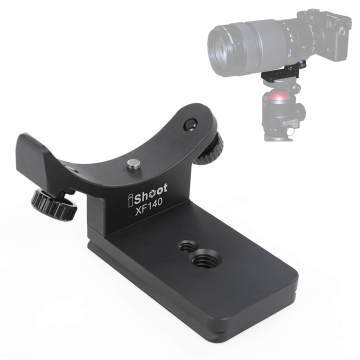 ARCA Lens Collar Replacement Foot for Fujifilm XF100-400mmF4.5-5.6 R LM OIS WR
$27.99
Item fits just fine and looks great!
Attaches to my ARCA mount tripod. Got this because I just think it is a better mount that what came with the Fuji lens. I really do not understand why Fuji didn't use an ARCA mount to begin with but it is what it is. This is a good upgrade for not much money.
Good adapter. Works as expected.
This product works perfectly and solves the problem of mounting to an Arca-compatible ballhead. I suspect that Fujifilm will eventually include this product with all 100-400mm lenses.
The bracket is well made and works just as it should on my XF 100-400m lens. Delivery was a bit slow as it came from China.
Easier to handhold this than the original that comes attached to lens from Fuji. Much easier. Also Arca-Swiss is a lot easier to use. If you have enough money to pay for the 100-400mm, you can afford this. You'll be glad you did!

Your cart is currently empty.